Live ATMs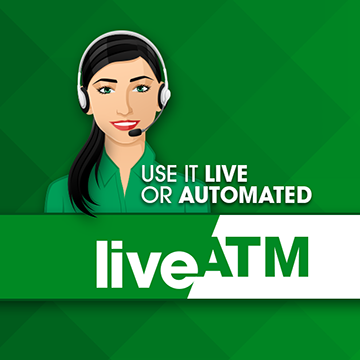 How does a Live ATM differ from an ATM?
Automated teller machines (ATMs) are as common as smartphones these days. However, this wasn't always the case. According to History.com, the first ATM was unveiled in early September 1969 and only able to dispense cash. Since the ATM launched, the finacial world has never been the same. Within two years, ATMs had advanced to offer more functionality for customers, such as being able to look up account balances.
A Live ATM allows MVFCU members a way to prove their identity by showing or scanning their driver's license or other form of identification so they can withdraw cash without a Checkcard or Creditcard card.
More Live ATM benefits
Live ATMs offer more than a friendly smile from a MVFCU employee on screen. A majority of ATMs can only disburse bills in $20 increments, but with Live ATMs, members can request, and receive, their money in various increments of bills.
Members may also benefit from faster service and extended hours by utilizing MVFCU staff who work from our contact center. Expanded hours give Members more flexibility in their schedule to conduct financial transactions.
Current Live ATMs have a number of features that members can use depending upon the nature of their transaction. Basic functions, such as the receipt printer, card reader and PIN pad carry over from ATMs. Additional features include a video camera near eye-level, a pad for signatures, identification scanner, and live chat or a phone handset for private communication with the teller. Together, these components will make financial transactions from an Live ATM more secure and easier.
Locations and hours
MVFCU Live ATMs are at our Big Lake, Palmer, Seward Meridian and Wasilla Community Offices.
Weekdays: 7 a.m. - 7 p.m.
Saturday: 8 a.m. - 5 p.m.
Start Building Your Financial Future Today!